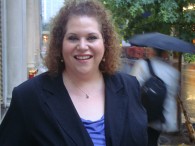 Sandra Mardenfeld is a freelance writer, editor, social media manager, marketing consultant and educator based in Long Island, New York.
She has worked as the managing editor for several national magazines, as the Broadway editor of Playbill and as an editor/writer on many websites. She currently teaches in Hofstra University's Continuing Education program and in the Department of Journalism, Media Studies and Public Relations. She's also worked as an assistant professor for LIU Post, St. Thomas Aquinas College and Mercy College.
Writing and Editing
Sandra has written for more than 50 newspapers, magazines, and websites. Her features, articles, essays, and reviews have run in such publications as Bride & Groom, Newsday, Allure, Distinction, The New York Times Book Review, Parents and Children, The Daily News, Jewelry Connoisseur, ModernBride.com, Elegant Bride, Working Woman, Time Out New York, Popejoy Theater, The Christian Science Monitor, Entrepreneur.com, Retail Ad World, American Bookseller, Construction Equipment Guide and Good Dog. She has been a copy editor for several publications, including the Herald newspapers and Breathe magazine. She also does marketing, social media management and content creation for a variety of clients. 
Education
She obtained her PhD in Communication and Information and Library Science, specializing in media studies, at Rutgers University. Her dissertation looked at reporter's privilege through the perspective of the public and the practitioner using focus groups, interviews and published editorials. She received her Masters in magazine journalism at New York University and her Bachelors in journalism at The State University College of Buffalo.
Awards
Sandra's review of Snow White for Show Showdown won the 2012 Society of Professional Journalists/Press Club of Long Island Award for Best Online Arts Journalism. Her academic presentations include: "Editorials, reporter's privilege, and public perception—a qualitative look on audiences' opinions and attitudes about shield law and how to better educate student, baby-boomer, and senior populations on the issue," at the 2011 International Association for Media and Communication Research conference in Istanbul, Turkey, July 2011 and "Jailed! Journalists incarcerated for protecting sources speak out on the importance of reporters' privilege," at the New Jersey Communication Association, March 2007, which won the Top Graduate Student Paper Award.